Trekking in Bhutan allows the traveler to get off the beaten track and on to the wondrous Bhutanese landscapes. About 80% of the landscape in Bhutan is covered by forests and we will lead you to complete wilderness were you come across various vegetation zones. Most of the trek routes run through protected areas and you will see wild life in its natural habitat.
Our treks range from short soothing walks through terraced fields and idyllic hamlets to some of the most arduous high altitude treks. Our low altitude treks run through 3100m plus and high altitude treks like six-day Druk Path Trek through 5400m plus across coniferous forests abloom with rhododendron flowers and shimmering lakes and the 21-day Snowman alpine quest to more than 6000m.
All trekking in Bhutan is being arranged as camping trips as there are no hotels or lodges along the trails. Your trekking camp is at designated place where there is ample water suppy to cook your meals and meadows to feed your ponnies. The company trekking crew treks with you to set up camps, carry your pack lunches, prepare tea and serve meals at the campsites. You will trek with your back-pack with only water bottle, batteries, cameras, jackets and your basics daily stuff such as medicines, toiletries and own supplies of chocolate bars, insect repellents and treatment tablets. Your heavier stuff such as tents, personal gear, kitchen and food supplies are carried by horses or yaks at higher altitudes. We do not rely on porters.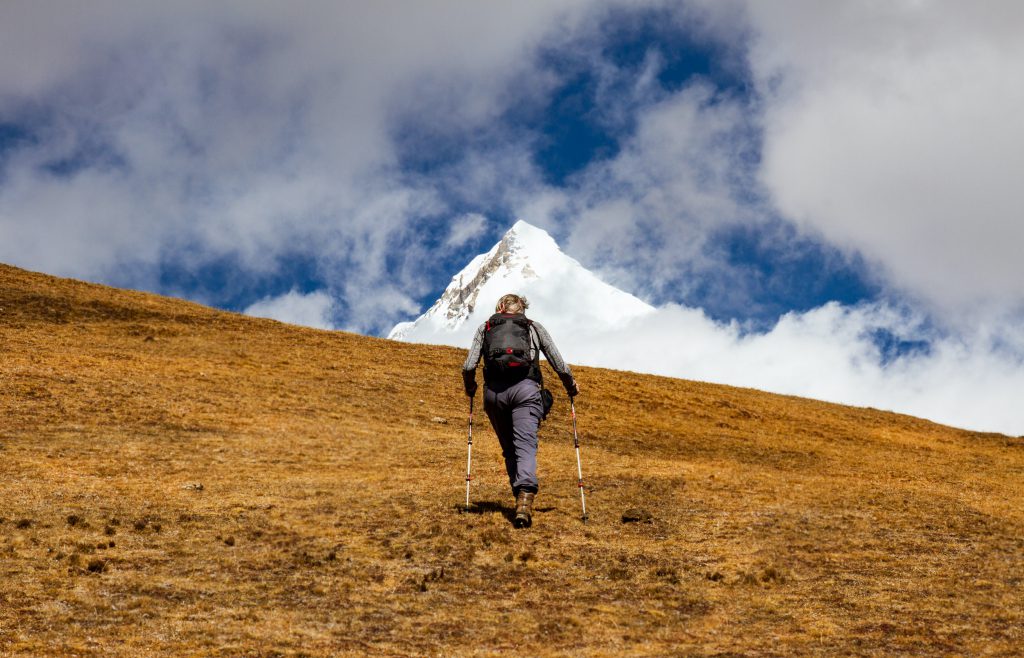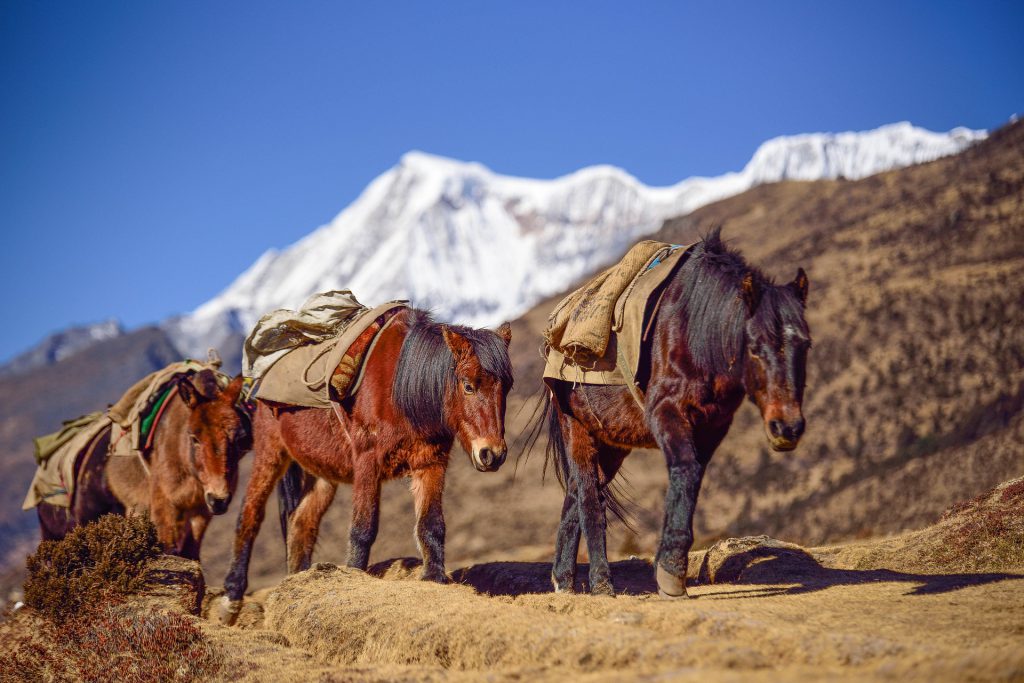 When to Come?
The best season for trekking in Bhutan is spring and autumn- March to April and late September to mid-November. Although the nights are colder in autumn with temperature in higher altitudes ranging from 20 degree celcius down to minus 10 degree celcius, days are warmer with bright sun shines. The autumn and spring is generally a high season for tourists and all hotels and flights get booked. On trek you will probably find other trekkers camping next to you. Our low altitude treks such as Gangtey Trek, Samtengang Trek and Ura treks runs through out the year accept in July and August when the weather is little wet for the trek.
What you are supplied on trek
On trek, you will be supplied 2-men sleeping tents, dining tents, kitchen tents, toilet tents, mattresses and utensils. You will have to bring your own sleeping bags. There is no trekking store here in Bhutan to buy or rent one and we suggest you to buy this from your place.
Trekking Staff
While trekking in Bhutan, you will be accompanied by a guide, a trekking cook, assistants and horsemen. Our trekking cooks are experienced and there are no places in Bhutan where they have not wielded the pot and pan and they can whip up a delicious meal at any altitude, weather or time. Our trekking cooks are trained by the Tourism Council of Bhutan and specialize in Bhutanese, Indian and Chinese cuisine.
Trekking food
While trekking, you are sent with extensive assortment of supplies and you can depend entirely on camp meals. You will not have to bring in any food items except if you wish you can carry some chocolate bars, or trail mix for snacks and few packets of seasoning but it is not really necessary. On trek, you are provided with 3 meals a day- breakfast, hot lunch served on the way, and dinner at the campsites with evening tea and snacks. There are no fresh foods available on trek; all the supplies are taken from the starting point of the trek. For the first few days, you will be served fresh foods and meats and on longer treks, after a week or so you will be served tinned foods. Our trekking cooks can cook any kinds of food and if you have any special dietary needs, on prior notice they will take care of it. Most of the trekkers say that trekking foods are better than in some of the restaurants and hotels.
Fitness level for treks in Bhutan
Trekking in Bhutan is physically demanding because of the distance and abrupt changes in elevation. You will have to walk 7-9 hours for 15-19 kilometers daily to reach the campsites. For example, for all the climbing days for 18-days Laya Gasa Trek, there is an elevation gain and loss during steep ascents and descents of about 6800m and most of the other treks have elevation gain of 500m in about 18km. Most of the climbs run through deep forests on rocky trails and sometimes the trails traverses through wet mud were you need agility to hop between round river stones. But if you have experience of walking 20-25km a day with a back pack and you do not have history of knee pains on descents it should not be difficult for you for trekking in Bhutan.
Insurance
Most treks in Bhutan goes to a height were most of the people show signs of altitude sickness but so far we have had no single case casualty. Our guides are well trained on the mountain sickness, medicine and care. Uur trekking staff can handle the situation professionally and effecetively.
The cost that we provide does not include insurance of any kind and you will have to get it insured from your country of origin before you come for trekking in Bhutan.
Baggage Limit on Treks in Bhutan
We strictly maintain baggage limit on treks in Bhutan. Each person on a trek is limited to a maximum of 15kg because a horse/yak carries 30kg and the load of two trekkers should make a load of a horse/yak. You are required to bring a duffle to put in your trekking stuff and a medium sized card suit case for your city clothes. You can leave your city clothes behind with office and have them reached to you at the end of your trek.